Wildfire Sprinkler System
Defense System 2
Automated wildfire sprinkler protection for your home
Automated. Connected. Precise.
The Frontline Wildfire Defense System brings together purpose-built hardware and powerful software in one complete package so you can confront wildfire season with confidence – all through a smart mobile app.
Our second-generation wildfire sprinkler system is powered by Frontline's fire tracking software and turns on automatically when fire is within seven miles of your home – more than 100x faster than traditional sensor-based systems. Once active, the system saturates your property with water and biodegradable firefighting foam, creating an environment that is too wet to burn.
This wildfire season you have the power to fire back
Automated Wildfire Sprinkler System
Rest easy with wildfire tracking that never sleeps
Defense System 2 is the only exterior wildfire sprinkler system powered by Frontline's 24/7 wildfire tracking software. The all-new Auto Activation feature automatically turns on your Frontline system when fire is within seven miles – more than 100x faster than traditional sensor-based systems that can only detect fire within a few hundred feet of your home.
If a fire comes within seven miles of your home, you will receive a notification via the Frontline App. At that point, a ten-minute timer will begin to countdown on the app. You have the option to activate your system immediately or choose to override the activation. If you don't take any action, the system will automatically activate at the end of the 10 minute timer.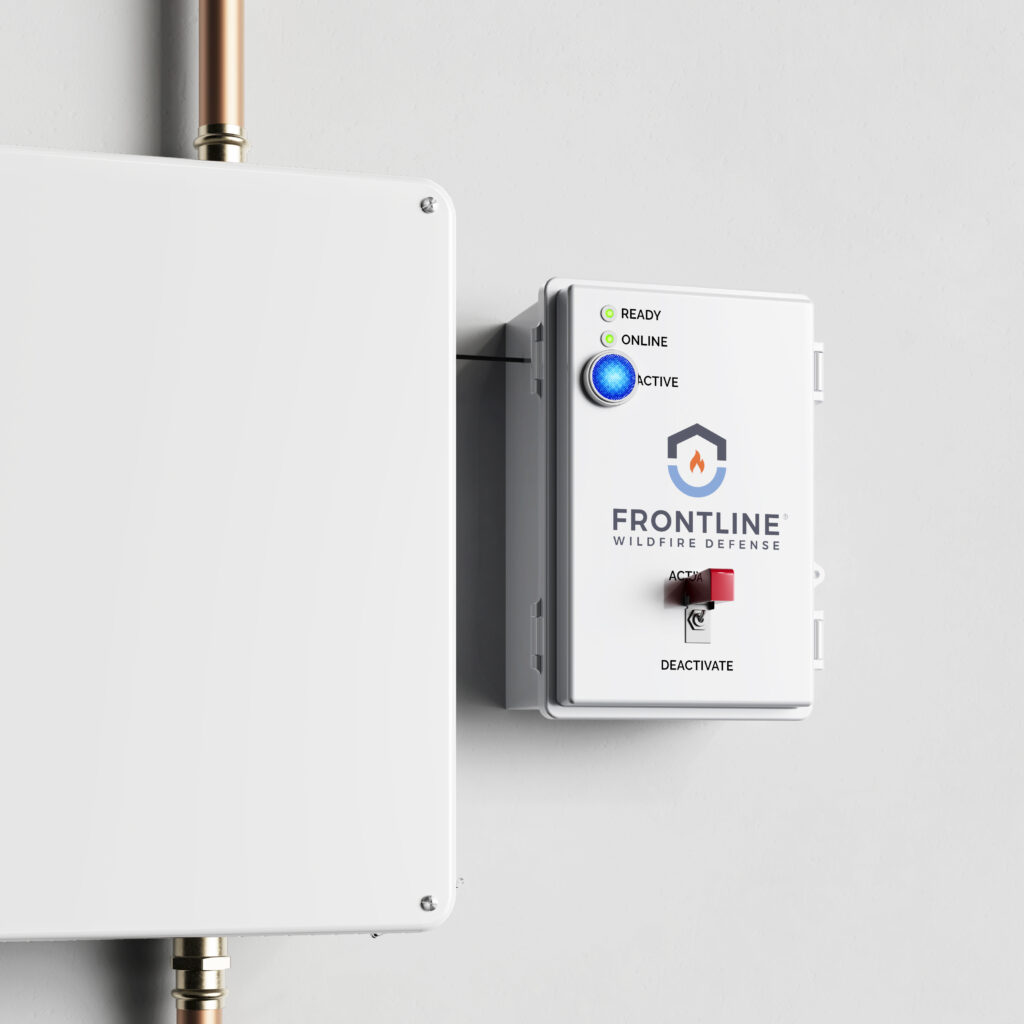 Digitally connected wildfire sprinkler system
The brains of the Frontline system
At the center of every Frontline system is the Frontline controller. This small box provides powerful connectivity. It allows Frontline to monitor your system remotely and provide remote service and support. Most importantly, this device allows for complete remote operation of the Frontline system, so you can evacuate with the peace of mind that your home is being defended.
Always connected for complete control
Every Frontline system comes with WiFi, cellular and satellite connectivity as well as a dedicated backup battery. If the power is shut off and cell service fails, you can still stay connected to your Frontline system and defend your home from anywhere. Frontline gives you complete control.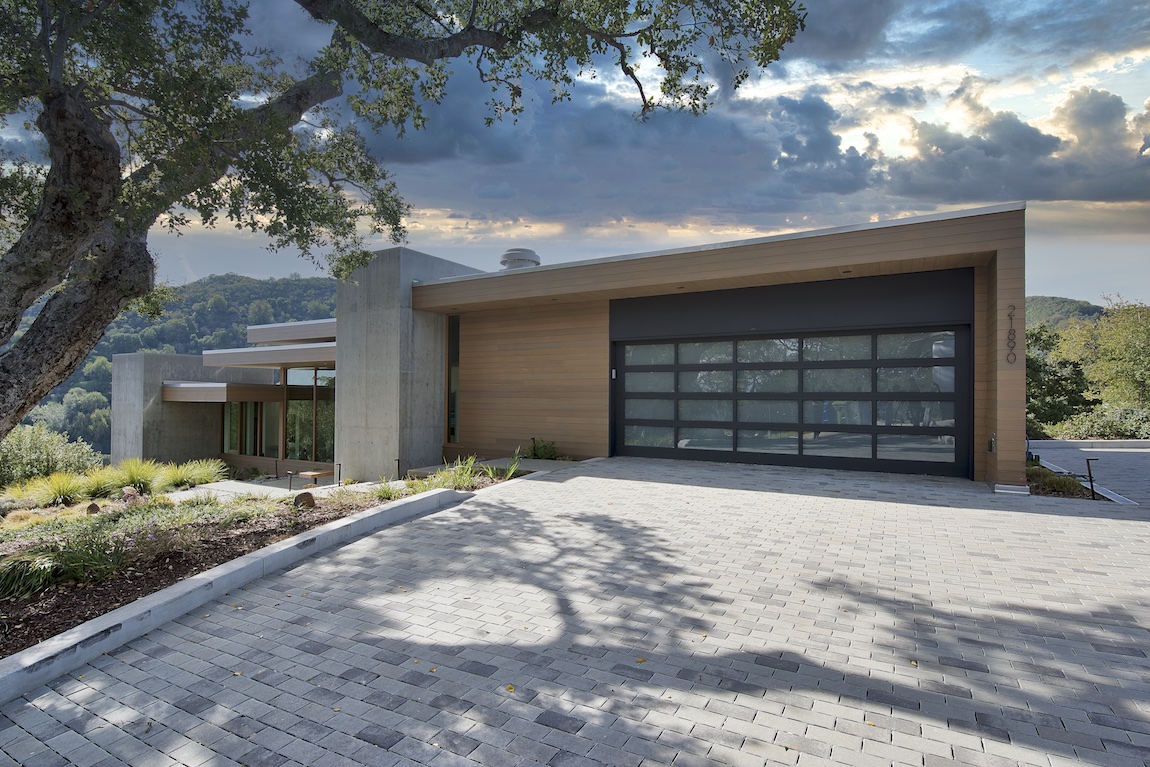 Roof sprinklers blend into your property
Discreet installation
The Frontline external fire sprinkler system is installed on roof ridges and under covered areas to maximize protection while minimizing distractions. Frontline crews install every system and we take extreme care to respect the aesthetic of your home. The system is concealed within the architecture of your home and can even be painted to blend in.
How the Frontline wildfire sprinkler system works
The Frontline Wildfire Defense System is a preventative system that combats the threat of wind-borne embers. The system is designed to be turned on when fire is within seven miles of your home, well ahead of fire showing up at your doorstep. Embers can travel for miles and can threaten your home long before a wildfire is visible from your property. By running your Frontline system early, you allow your property to become fully hydrated and create an environment where embers are unable to cause a fire.
Wildfire sprinkler system design
Custom-designed for powerful ember defense
Every Frontline system starts with a custom design, based on your home's unique needs. We carefully layout exterior sprinkler placements to ensure complete coverage of your home and 30 feet of property surrounding your home. Sprinkler coverage around your home includes 100% overlap to account for high wind during many wildfires.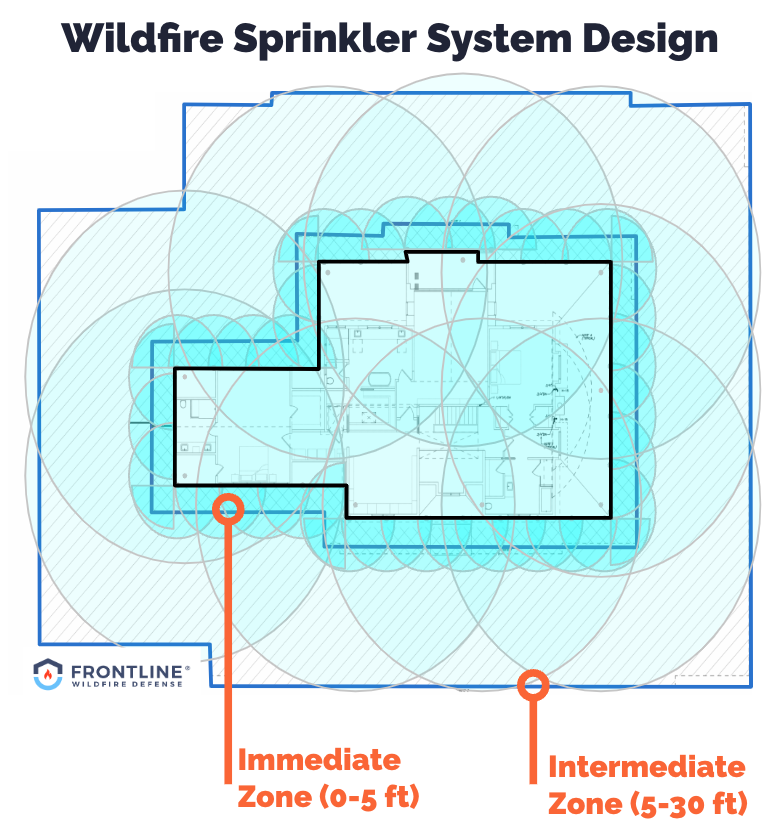 Eave mounted wildfire sprinklers
Eave sprayers
Defense System 2 eave sprayers are installed under the eaves of your home. They point downward and focus on keeping the walls of your home and the space up to fifteen feet from your home wet. This is the most critical zone for defending against embers and is commonly referred to as the immediate zone or HIZ-0.
Roof mounted wildfire sprinklers
Roof rotors
Defense System 2 roof rotors are mounted on the roof of your home. They rotate 360 degrees and focus on keeping your roof and gutters wet. They also spray up to 30 feet from the exterior wall of your home, the area known as the intermediate zone or HIZ-1.
Wildfire sprinkler water management
Intelligent water management
Designed to run and remain effective with low water pressure, Defense System 2 is constantly measuring and optimizing available water. Our system runs in a series of zones, much like landscaping irrigation systems, so that we can limit the water required at any given time. The use of Class-A foam further reduces the amount of water used. Typically our system will use your home's primary water source first. If the system senses a drop in pressure it automatically switches to an available secondary water source such as a pool, tank, or well.
Wildfire sprinklers with firefighting foam
Class A foam is 5x more effective than water alone
The Frontline System distributes a class A, fire-fighting foam that breaks down water surface tension and allows water to be absorbed more quickly and more deeply by combustible items on your home and property. Our foam is approved by the U.S. Forest Service and is used every day by firefighters. The foam is environmentally friendly, biodegradable, non-toxic, and easily washes away after being applied during a fire.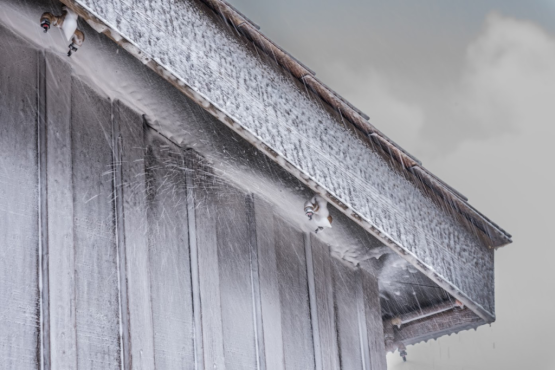 Frontline Protection Stories
The power to protect what you love
Zero-down wildfire protection
New financing options make a Frontline Wildfire Defense System more accessible to more people.

Install Now, Pay Later
No payment for one year.
No interest for one year.

Protection Loan
Low monthly payments.
One low, fixed rate.

Cash Purchase
Own your system from
day one.
Questions about exterior wildfire sprinkler systems
Ready to protect what you love?
Connect with us today and we will help you get started with a Frontline roof sprinkler system for your home.