Nearly every year, California experiences major wildfires that can be devastating to the environment and communities throughout the state. These fires tend to frequently and tragically displace California locals from their homes due to property destruction, poor air quality, extreme heat, and other consequences.
But what causes these California wildfires, and how can residents protect themselves and their property from these natural disasters? Read on to learn more about California wildfires history, key California wildfire statistics, and how you can protect your home from these dangerous fires.
California Wildfire 5-Year History & Statistics
CAL FIRE collects data each year to measure the impact of wildfires on California's residents, structures, and the environment. While many acknowledge the severity of California's history with wildfires, few realize exactly how serious the situation is.
Take a look at the following statistics from CAL FIRE and its report on California Wildfires and Acres for all Jurisdictions:
| | | | | | |
| --- | --- | --- | --- | --- | --- |
| Year | 2016 | 2017 | 2018 | 2019 | 2020 (Aug. 30) |
| Number of Fires | 6,959 | 9,270 | 7,948 | 7,860 | 7,335 |
| Acres Burned | 669,534 | 1,548,429 | 1,975,086 | 259,823 | 1,666,286 |
| Fire Suppression Costs ($M) | $534 | $773 | $635 | $91* | N/A (Data not yet reported) |
| Structures Destroyed | 1,274 | 10,868 | 22,905 | N/A (Data not yet reported) | N/A (Data not yet reported) |
* Expenditures for 2019-2020 are not final. See this report for more information.
The above statistics may be shocking, as they paint a drastic picture of the impact of wildfires on California. Not only do these wildfires destroy a significant amount of uninhabited land, but they also wreak havoc on local structures and homes.
California Wildfire Averages
Using data from the table above, here are the average statistics on California fires over the past five years. Keep in mind that the 2020 California fire season is only now beginning to reach its peak, so there will likely more fires and devastation this year that could skew this average. Unfortunately, fire season is expected to continue to worsen due to impacts from global warming and climate change:
| | |
| --- | --- |
| | 5-Year Average |
| Number of Fires | 7,874 |
| Acres Burned | 1,223,831 |
| Fire Suppression Costs ($M) | $590.4 (for latest available data, 2014-2019) |
| Structures Destroyed | 1,274 |
Millions of Homes at Risk
More and more homes are being built in wildfire prone areas:
Over 30 million homes at risk. According to CoreLogic's 2019 Wildfire Risk Report, there are now about 30 million homes in areas at low to extreme vulnerability to wildfires. As evidenced by the current fires blazing across the state, even homeowners who aren't in these zones may be impacted by poor and hazardous air quality and extreme temperatures. Being categorized as low risk does not guarantee safety from wildfires: 58% of structures currently burning were categorized as "low" risk. Herein lies the difficulty with grading wildfire vulnerability of homes–ember travel greatly widens the range of vulnerability.
Over 775,000 homes at extreme risk. According to CoreLogic's 2019 Wildfire Risk Report, over 776,000 homes are at extreme risk of wildfire. California has the most homes at extreme risk of wildfire damage of all U.S. states.
Over $220 billion replacement value. According to CoreLogic's 2019 Wildfire Risk Report, reconstruction cost for the homes in extreme risk areas is over $221 billion, indicating just how costly a devastating fire could be.
The Most Destructive Wildfires in California's History
As you can see from the statistics above, California wildfire history is filled with thousands of fires and millions of dollars in destruction. While many individual fires are on a smaller scale, there have been numerous wildfires over the years that have resulted in extreme levels of destruction. Below are a few of the largest, most destructive, and deadliest wildfires in California's history:
Camp Fire
In November 2018, the Camp Fire broke out in northern California. This fire went on to consume over 150,000 acres of land, destroy nearly 19,000 structures, and kill 85 people.
The Camp Fire also drove 27,000 people from the town of Paradise out of their homes. The fire, started by power lines, has become the deadliest and most destructive fire in California history.
Mendocino Complex
The Mendocino Complex Fire, which started in July 2018, refers to the damage caused by two neighboring fires—the Ranch and River fires.
The extreme humidity and triple-digit temperatures during the summer of 2018 created ideal conditions for these fires to spread and grow quickly, leading to the destruction of over 460,000 acres of land, making it the largest fire in the state's history.
Thomas Fire
The Thomas Fire, which devastated Santa Barbara County and Ventura County, broke out in December 2017 and quickly grew out of control. The fire was started by power lines and was fed by strong winds and dry vegetation.
This fire went on to destroy nearly 282,000 acres and over 1,000 structures, making it one of the largest and most destructive fires to date.
Tunnel (Oakland Firestorm)
In October 1991, a simple brush fire in Oakland turned into the costliest fire in the state's history with damages totaling over $1.5 billion.
Embers from the fire spread throughout the area, starting many smaller fires that merged into one larger wildfire. Firefighters were eventually able to put the fire out; however, the fire had already killed 25 people, consumed 1,600 acres, and destroyed 2,900 structures.
Cedar Fire
Beginning in October 2003 and lasting until December of the same year, the Cedar Fire in San Diego County was started after a lost hunter started a signal fire in the Cleveland National Forest.
The fire destroyed over 273,000 acres of land, laid waste to about 2,800 structures, and killed 15 people, including three firefighters.
Summary
These are only a few of California's most devastating wildfires, showing just how quickly wildfires can grow out of control when started under the right conditions. Here's a quick overview of the state's 10 most destructive fires:
| | | | | |
| --- | --- | --- | --- | --- |
| Fire Name | Year | Acres Burned | Structures Destroyed | Deaths |
| Camp Fire | 2018 | 153,336 | 18,804 | 85 |
| Tubbs | 2017 | 36,807 | 5,636 | 22 |
| Tunnel | 1991 | 1,600 | 2,900 | 25 |
| Cedar | 2003 | 273,246 | 2,820 | 15 |
| Valley | 2015 | 76,067 | 1,955 | 4 |
| Witch | 2007 | 197,990 | 1,650 | 2 |
| Woolsey | 2018 | 96,949 | 1,643 | 3 |
| Carr | 2018 | 229,651 | 1,614 | 8 |
| LNU Lightning Complex | 2020 | 363,220 | 1,490 | 5 |
| CZU August Complex | 2020 | 86,509 | 1,355 | 1 |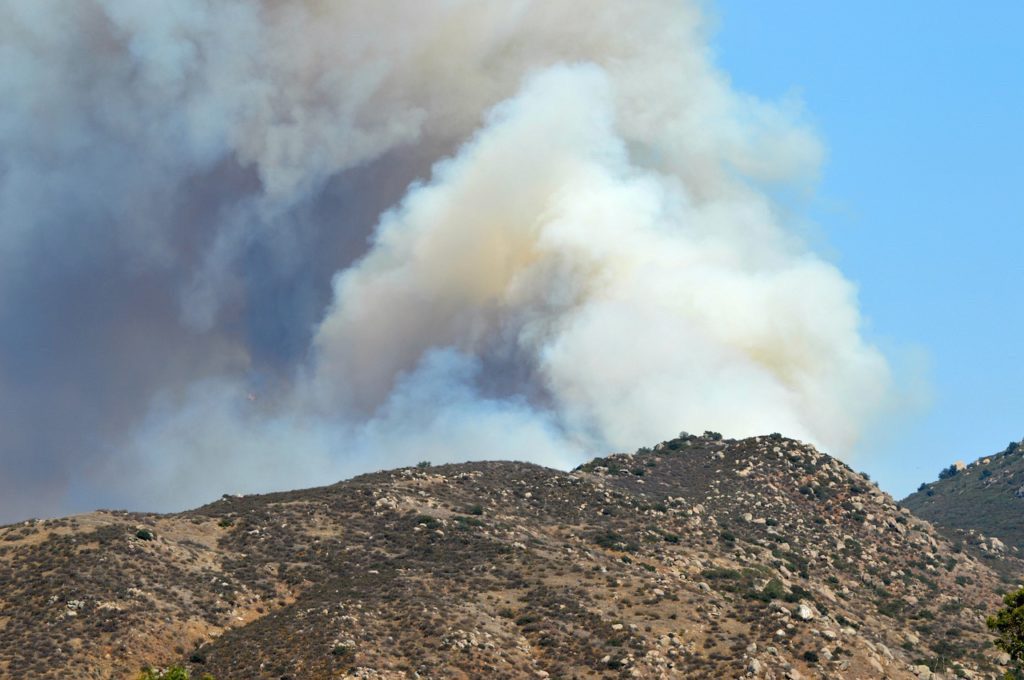 California Wildfires in 2020
Several wildfires have already swept through California in 2020, destroying hundreds of homes and consuming a significant amount of land. As you can see in the chart above, two 2020 fires are already in the top 10 most destructive fires in California history—the LNU Lightning Complex and the CZU August Complex. Combined, these two fires destroyed over 2,700 structures.
2020 California Wildfire Statistics
We are just beginning to enter peak wildfire season in 2020, so these numbers will continue to grow. Here is a summary of 2020 fire incidents in California as of September 10, 2020 according to CAL FIRE:
Acres Burned: 2,277,922
Number of Fires: 7,606
Deaths: 7
Structures Damaged or Destroyed: 3,849
Unfortunately, the severity of wildfires in California does not seem to be an improving situation. In fact, many would say that they're worsening. The problem is likely to get worse as climate change continues to create increasingly dry conditions and rising temperatures.
Some have even suggested that there will eventually not be a fire season. Instead, optimal conditions for wildfires may exist year-round. As such, it's more important than ever for California residents to practice proper fire safety and protect their homes from the dangers presented by wildfires.
Track Current Wildfires
Frontline Wildfire Defense is proud to offer access to an interactive California wildfire map and tracker. Keep an eye on recent wildfire activity, so you can take appropriate action to protect your home and property. This map is also available via the Frontline Wildfire Defense App (Android | iOS).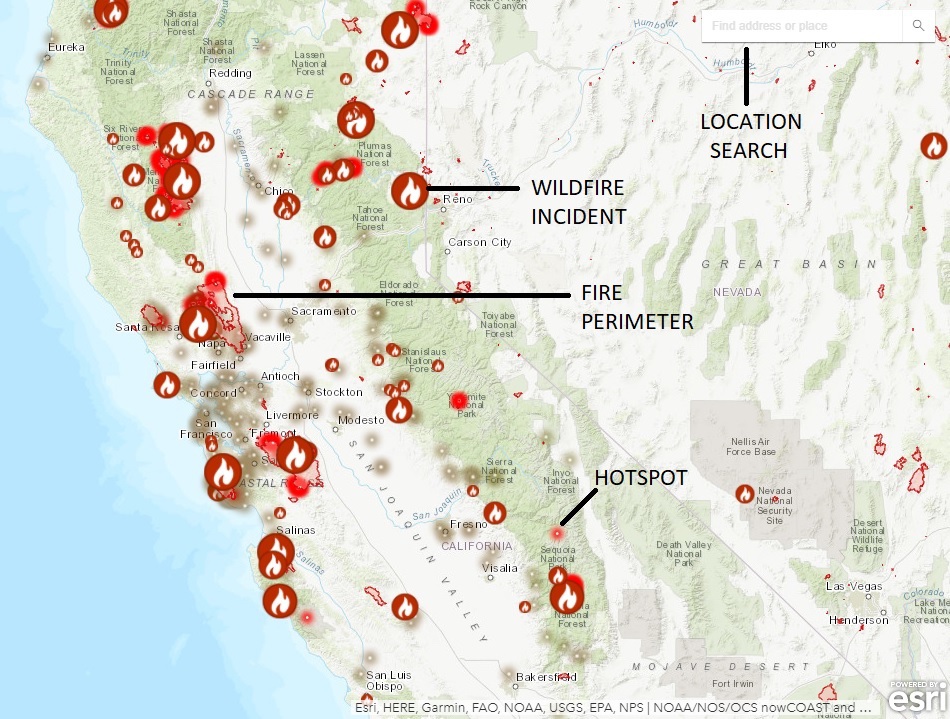 What Causes Wildfires in California?
Wildland fires are classified as either naturally occurring or human-caused. According to the National Park Service, however, human-caused wildfires are significantly more common, with human involvement triggering 85% to 90% of wildfires.
California's dry climate provides prime conditions for a wildfire, and unfortunately, it doesn't take much to spark a fire that can devastate an entire area.
Most Common Causes of Wildfires in California
The most common causes of wildfires in California include:
Burning Debris: One of the most common causes of wildfires is embers from burning debris. Wind can carry these embers for up to 7 miles without extinguishing them.
Human Activity: Such as driving cars, pulling trailers, having a gender reveal party, or doing yard maintenance.
Electrical Power: Fallen power lines are the third most common cause of wildfires in California and were the cause of the deadliest fire in history—the Camp Fire. However, human activity causes far more wildfires than electrical power lines.
Campfires: Camping is an incredibly popular summer activity, but unfortunately, many campers don't practice proper fire safety. As a result, unattended campfires are historically one of the leading causes of wildfires in the state.
Arson, lightning, discarded cigarettes, and equipment malfunctions are a few of the other events that can lead to devastating wildfires in California.
California's Extended Fire Season
People tend to believe that California's peak fire season is summer. However, while there is a high risk of wildfires during the summer, September and October are the two months when California is most susceptible to wildfires. While more fires occur during July, fall fires tend to be more dangerous, as fierce autumn winds help spread the fires across the state—leading to more burned acreage overall.
Peak fire season typically ends after the first major rainfall during the fall or winter. This has been delayed in recent years, though, due to a trend of dryer autumn seasons. As a result, California fire season can extend well into winter. Under the influence of climate change, some experts are even suggesting that California fire season is now year-round.
Protect Your Property Today