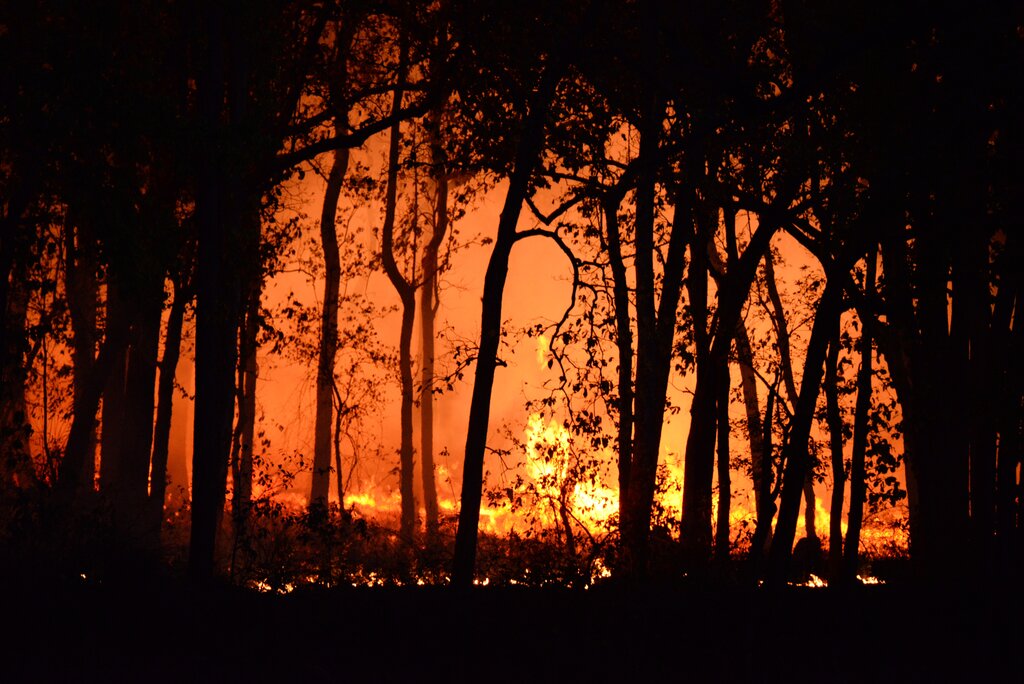 To protect yourself, your family, and your property against wildfires, it's important to take steps to assess your wildfire risk, safeguard your home, and learn what local wildfire resources are available to you. Here are several San Diego wildfire resources and alerts you can use to help stay safe during the California wildfire season.
For San Diego residents, another free safety tool to have in your arsenal is the Frontline Wildfire Defense app. Here, you can track nearby wildfire activity from your Smartphone.
San Diego Wildfire Resources
San Diego residents have access to a variety of resources designed to help them prepare for wildfires, monitor active wildfires, and seek emergency assistance in case of a wildfire. Here is your complete guide.
San Diego Emergency Resources
Here is a list of emergency resources in San Diego residents can contact:
Remember, if you need help during an active wildfire or any other emergency, you should forego these resources and immediately call 911.
Preparing for a wildfire
If you need help learning how to prepare for a wildfire to keep yourself, your family, and your home safe, consult these fire preparedness resources:
These resources are designed to help San Diego residents prepare for wildfires by teaching them how to defend their homes, plan their evacuation, and more.
Other resources
San Diego residents can consult these additional resources to learn more about wildfires in their areas and stay safe during wildfire season:
These resources can help you monitor active wildfires and other environmental conditions while also providing information about past wildfires.
How to Prepare for a Wildfire in San Diego
Taking steps to protect your home against wildfires can help you mitigate damages in case a wildfire spreads to your community. While you can't stop wildfires from impacting your community, you can take steps to prepare for them if they do spread to your area. Keep these helpful tips in mind.
Create 100 feet of defensible space: California state law requires that residents maintain 100 feet of defensible space around their homes. This includes regularly mowing your lawn, trimming vegetation, maintaining adequate space between bushes and trees, and more.
Use fire-resistant building materials: Fire-resistant building materials like fire-rated glass and concrete make it more difficult for fires to ignite your home.
Install a high-quality sprinkler system: The Frontline Wildfire Defense sprinkler system helps proactively hydrate your home to protect it against ignition.
What History Tells Us About Wildfires in San Diego
Both manmade and naturally-occurring wildfires pose a significant threat to communities in San Diego and throughout California. During the dry wildfire season, fires can grow and spread rapidly, destroying land, buildings, and everything else in their way.
Like the rest of Southern California, San Diego is very susceptible to wildfires due to its dry and warm climate. These conditions, particularly during the summer months, allow wildfires to grow and spread at a rapid pace. Not only do these wildfires pose a threat to local ecosystems and natural areas, but they also pose a serious threat to homeowners in the area as they have the potential to spread through communities.
Over the years, San Diego has seen thousands of major wildfires, including particularly severe fires such as the:
These are only a few of the major wildfires that have occurred in San Diego over the past several decades, and fires continue to devastate San Diego nearly every year. Per CAL FIRE, there were 10+ wildfire incidents in San Diego County in 2021.
What Causes Wildfires?
Residents in San Diego and other fire-prone areas must understand how wildfires are caused so that they can avoid contributing to their creation. Wildfires can be both naturally-occurring or manmade. In either case, these fires can devastate local communities and wildlife. Some of the most common causes of wildfires in San Diego and other areas of California include:
Burning Embers: Embers from small fires and burning debris can drift for miles without going out. If these embers land on dry vegetation or other combustible materials, they can quickly start fires that grow out of control.
Fallen Power Lines: Fallen power lines can easily ignite nearby vegetation and lead to devastating wildfires.
Campfires: Campers that leave their campfires unattended often inadvertently cause wildfires in wooded areas.
Other: Other common causes of wildfires may include discarded cigarettes, lightning, fireworks, equipment malfunctions, and more.
Safeguard Your Home with the Frontline Wildfire Defense App
We hope you found this guide to San Diego wildfire resources and alerts helpful! Keep it bookmarked to always have the resources you need at your fingertips. And remember, the free Frontline Wildfire Defense app is another great tool to add to your arsenal.
The Frontline Wildfire Defense app includes:
California fires map
Weather information
Fire danger indexes
Event notifications
Preparation checklists
Emergency contact groups
Remote system controls
To learn more about wildfire season in California and what you can do to safeguard your home, read our blog on California wildfire season.