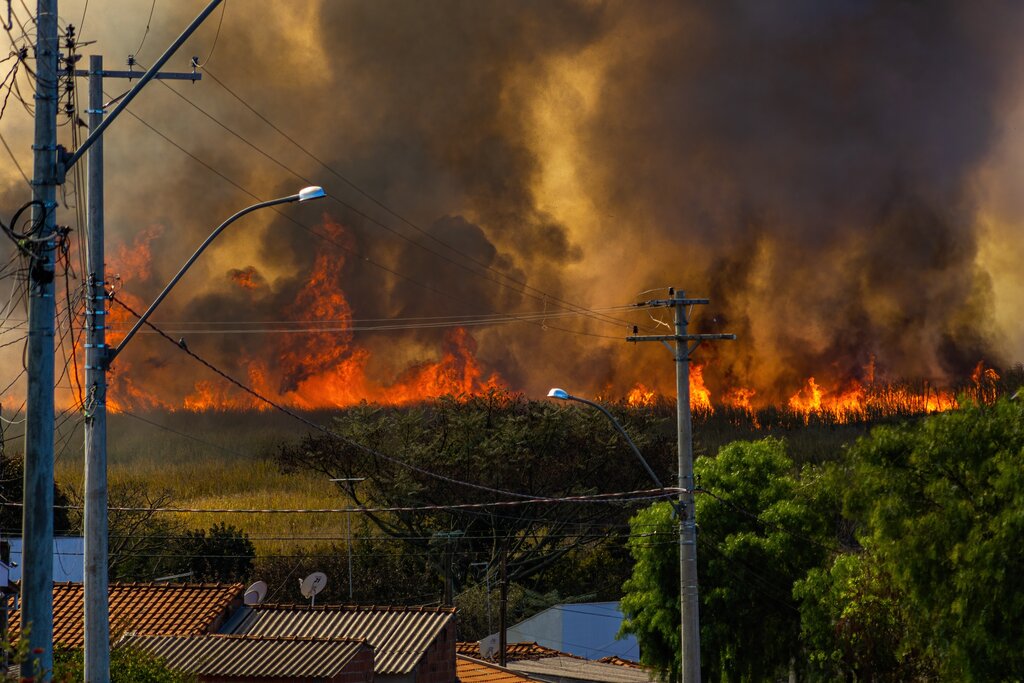 Wildfires are one of the most unpredictable natural disasters. They can happen suddenly and grow quickly. For that reason, folks in fire-prone areas should familiarize themselves with the ALERT Wildfire Camera Network. This camera network is a high-speed system that monitors fire-prone regions like Oregon, California, and Montana. Read on to learn how to make the most of this valuable tool.
After reading, arm yourself with more wildfire knowledge! Explore the blog for answers to frequently asked questions. For real-time news, updates, and wildfire warnings, remember to download our free Wildfire Defense app!
What Is ALERT Wildfire?
ALERT Wildfire is a consortium of three universities including the University of Nevada, Reno, the University of California San Diego, and the University of Oregon. Together, this powerful team provides fire cameras, tools, and resources to help firefighters and first responders discover and confirm wildfires.
ALERT Wildfire is an expansion of ALERT Tahoe, a pilot program that deployed cameras in the area surrounding Lake Tahoe. Between 2016 and 2019, ALERT Wildfire provided critical information for over 1,000 fires, including the Cave, Maria, Saddleridge, Wall, Whittier, and Kincade fires. ALERT Wildfire continues to expand its camera network with the goal of 1,000 cameras in California by 2022.
About the ALERT Wildfire Camera Network
The ALERT Wildfire camera network includes hundreds of cameras strategically placed throughout the western United States. According to ALERT Wildfire, their goal is to aid firefighters and first responders with the following tasks:
Discovering, locating, and confirming fire ignition.
Quickly scaling fire resources up or down as needed to respond to active wildfires.
Monitoring fire behavior during active containment efforts.
Facilitating evacuations through enhanced situational awareness.
Actively monitoring contained fires for flare-ups to ensure they are no longer a threat.
The cameras in this network rotate, tilt, and zoom as needed, making it easier to monitor fire behavior in real-time or through time-lapse footage.
Where Does ALERT Provide Coverage?
The ALERT Wildfire camera network covers several regions throughout the western United States, including:
The Central Coast in California
Colorado
Greater Tahoe
Inland Empire and Eastern Sierra in California
Los Angeles, Orange, and Ventura Counties
Montana
Nevada
North Bay
California's North Coast
San Diego
Oregon
Idaho
Washington
Utah
In addition to the hundreds of new cameras installed throughout California, ALERT also has plans to expand operations in nearby areas along the Western Coast! Visit the ALERT Wildfire website for a complete list of today's coverage areas. Here, you can select any region to access real-time footage.
Wildfire Safety 101
During a red flag warning, avoid activities that can contribute to fires, like burning trash or mowing dry vegetation.
Prepare a wildfire evacuation checklist ahead of time so you are prepared to leave if evacuation is necessary. Always seek shelter outside of the active fire danger zone.
Keep in mind that failure to leave during a mandatory evacuation is a criminal offense in California.
How to Protect Your Home Against Wildfires
It's always wise to prep your home before wildfire season. Here's how to help protect your family, home, and community:
Install an exterior sprinkler system. A sprinkler system can help protect your home against wildfire by proactively hydrating its exterior.
Create a defensible space. A strong defensible space starts with removing flammable items from around your home. Remember to also space out vegetation and regularly trim shrubbery.
Use the right building materials. Building materials, like fire-rated glass, can harden your home. This extra later of protection makes it more difficult for fires to damage your home.
Stay in the Know & Protect Your Home
The ALERT wildfire camera network is just one of the many incredible resources available to California residents. However, keep in mind that while these cameras may work well when accessed from your laptop or computer, things may turn out a bit laggy on mobile.
Stay in the know at all times with the mobile-friendly Frontline Wildfire Defense app. This free resource provides wildfire maps, fire danger indexes, event notifications, and more. Get the app, below. Or, if you're interested in learning more about our sprinkler systems, schedule a free consultation! We hope to serve you soon.