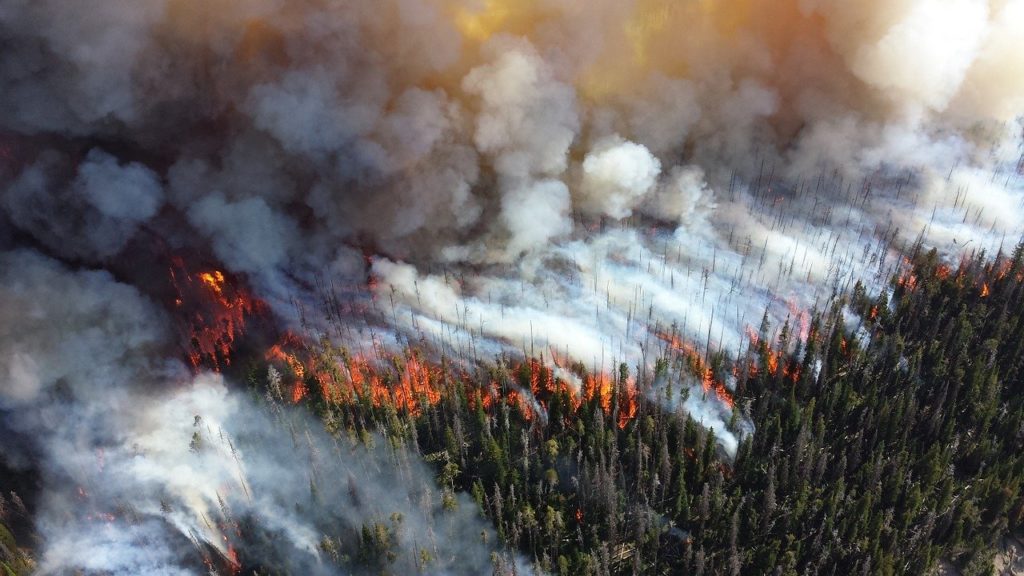 Every year, wildfires devastate communities across the United States. If it is your first time experiencing a wildfire, we know it can be frightening. To be better prepare yourself and your loved ones for the future, you may be wondering, "Is there a warning system for wildfires?" The answer is YES! Read on to learn more.
If you have any questions afterward, remember to explore our blog to discover more news and resources. Or, for real-time news, updates, and wildfire warnings, download our free app!
Know the Warnings
Those that live in fire-prone areas like California, Colorado, and Oregon need to actively watch for warnings and alerts during wildfire season, and free resources are available to help keep you safe. Organizations like the National Weather Service constantly monitor weather conditions and issue alerts. Residents who live in these fire-prone areas are encouraged to keep them bookmarked!
Understanding red flag warnings and other wildfire alerts can help you know which activities to avoid during certain times–for example, avoiding campfires when the weather is particularly hot, dry, and windy. In some cases, these alerts will also inform you when wildfires have escalated to the point of requiring mandatory evacuation. To keep you and your loved ones safe, here's everything you need to know about red flag warnings and other wildfire alerts.
What Is a Red Flag Warning?
The National Weather Service issues red flag warnings when there is an increased risk of fires due to weather conditions within the next 24 hours. These warnings are issued from regional offices located around the country. Each forecast office covers many different fire weather zones.
Typically, this means that there is a combination of high temperatures, low humidity, and strong winds — all of which make it easier for wildfires to start, grow, and spread. When these conditions are present, residents and landowners need to take special precautions to avoid potentially starting a fire. This means avoiding certain high-risk activities, including burning trash, lighting campfires, using fireworks, mowing dry vegetation, and more.
During an active red flag warning, firefighting agencies often extend staffing hours, increase fire prevention patrols, and take other precautions to catch and extinguish fires before they grow out of control.
What weather conditions are considered?
Several weather conditions are considered before issuing a red flag warning, including:
High temperatures
High relative humidity
Low soil and vegetation moisture
Strong wind speeds
Dry lightning
When these conditions are present at the same time, it becomes easy for vegetation to ignite and for fires to quickly spread throughout large areas.
What Does a Red Flag Warning Mean?
Residents in fire-prone areas should keep an eye out for red flag warnings so that they can respond appropriately and refrain from certain high-risk activities.
During an active red flag warning, local authorities may issue a burn ban to reduce the risk of fires. Individuals should also avoid mowing dry vegetation, driving over grass or vegetation, doing yard work, and ensure they are using spark arresters on any gas-powered equipment. Residents should also report any fires, smoke, or dangerous activity that could lead to fire to their fire fighting agencies.
Other Wildfire Alerts to Know
There are a few other important wildfire alerts that homeowners and landowners in high-risk areas should be aware of, including:
Fire weather watch: Fire weather watches are when fire weather conditions are likely within the next 12 to 72 hours. These alerts are typically issued before a red flag warning.
Evacuation notice: Local authorities issue an evacuation notice when danger is imminent. Evacuation orders are either voluntary or mandatory. If a mandatory evacuation notice is issued, it means that residents should leave the area immediately. In some states, like California, staying home during a mandatory evacuation can result in criminal charges.
Extreme wildfire behavior: An extreme wildfire behavior alert means that a wildfire is unpredictable and likely to grow out of control. Individuals should exercise extreme caution and watch for evacuation notices when this alert is issued.
How to Protect Yourself from Wildfires
Homeowners need to take precautions to protect their homes. Here are a few ways to reduce your risk of suffering damages from a wildfire.
Install a sprinkler system: The Frontline Wildfire Defense sprinkler system helps protect your home with proactive hydration on your home's exterior. This reduces the chances of ignition.
Use a wildfire tracking app: Wildfire tracking apps, like the Frontline Wildfire Defense app, make it easy to monitor local wildfire activity and view wildfire maps.
Create a defensible space: Create defensible space by trimming vegetation, spacing out shrubs and trees, and removing flammable materials from around your home.
Use the right building materials: Consider using fire-resistant building materials, like fire-rated glass, to strengthen your home against fires.
Keep an eye out for warnings and alerts: Always monitor alerts from local authorities and weather organizations to stay safe during fire season.
Stay Prepared with Frontline Wildfire Defense
We hope you found this guide to red flag warnings and wildfire alerts helpful! At Frontline Wildfire Defense, our mission is to provide the best wildfire resources and home defense systems. In addition to our exterior fire sprinkler systems, our Frontline Wildfire Defense App is another valuable tool. With the Frontline Wildfire Defense App, you can:
Remotely control your home sprinkler system
Receive event notifications
View wildfire maps
Find weather information
View fire danger indexes
Create wildfire preparation checklists
Create emergency contact groups
+ More!
If you'd like more information on how you can safeguard your home and protect your family from wildland fires, explore our blog for helpful tips or contact our team at Frontline Wildfire Defense.